Zee tattoo Studio's target is:
This Studio carne in existence to give the customer a positive, relaxing, and private tattooing and piercing experience. Having seen customer experience in street shops, I decided to open a biggest studio in Punjab that is more quiet and comforting. Here, customers come to get tattooed, or for a free consultation, mostly by appointments, thus eliminating the confusion and chaos created by the walk-in only business of a traditional street shops. I have strived to create a welcoming environment for any customer to come in and relax. There is also plenty of space for customers to bring friends who can share in their experience.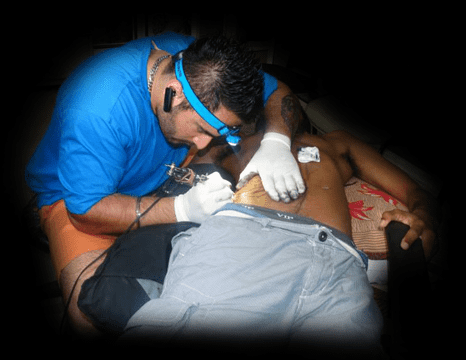 At Zee body graphics studio, the customer is getting comfort and importance. When I meet with a customer, he/she is my top priority, regardless of the size of the tattoo. Therefore, the studio is ideal for not only first timers, but for tattoo experienced people as well. Zee body graphics Studio is more than a tattoo making, tattoo removal & piercing shop; it is an experience to be remembered.
Zee body graphics Hygiene and safety standard:
At Zee body graphics studio, hygiene and customer safety standards are followed as per international hygiene and tattoo safety standards:
Studio is completely cleaned and disinfected every day, with specific attention being given to the sterilization room and tattoo area.
All sterilization equipment is cleaned down with alcohol and stripped a. cleaned from top to bottom.
All tattoo and piercing equipment that is not disposable goes through the autoclave.
Work tables – After each tattoo, the artist's work tables are disinfected with an antibacterial product before a new tattoo.
Ink & Ink Caps – Every client gets their own cap(s) of ink and all used caps and unused ink are disposed of after the tattoo.
Gloves. Surgical gloves are used – Artist(s) washes their hands prior to putting on their gloves, preferably with an anti-bacterial / antiseptic hand wash. Once they put their gloves on, they don't touch anything other than your skin, the needles, and the tattoo equipment.
Razor – If the artist needs to shave your skin before applying the stencil, they use disposable razors or they use hair removing machine.
Spray bottles -The spray bottle used by artist is always cleaned by spirit.
Needles and tubes – kept in sealed a. sterile packs.
At Zee body graphics personal hygiene is mandatory.
We provide a tattoo aftercare manually for tattoo or piercing so that you follow the guidelines ensuring proper healing.
Zee body graphics encourages you to ask any query you might have related to our health and safety policy.
Zee body graphics customer focus:
Zee body graphics brings fine art expertise of its primary artist Nonie Singh who had started his tattoo art in Melbourne [Australia] and uses his creativity exclusively to your custom tattooing needs. Nonie believes that a tattoo should represent the person uniquely and brainstorms with customer to come up with unique designs that truly converts an idea into reality. Nonie opened this studio just because of his passion for art and creativity. Nonie want his customer satisfied with quality and price. At Nonie's studio , you can feel being part of Nonie's unique community, listening to music, reading books with a cup of Coffee and of course tattooing session you will always remember.